$ whois Phil Coval
Software Engineer from Rennes, France
Contributed to libre communities:

Debian, Qt, MeeGo, Mozilla-IoT, Node…

Involved in industry's OSS:

Tizen (Intel), Yocto, IoTivity (Samsung)

Currently available for cooperation:
Software is never finished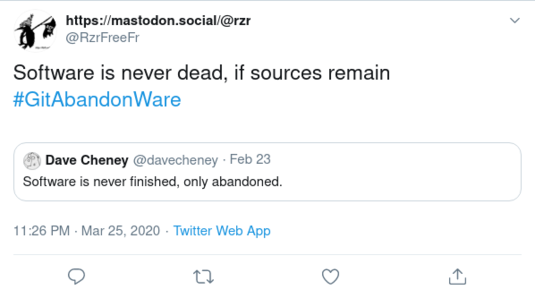 Software will be abandoned
Abandonware is a product

typically software,
ignored by its owner and manufacturer,
and for which no support is available

Open source products include permission

to use the source code
FLOSS without community is just software
Challenges
Code isn't like wine,

it does not get better over time

Upstream is not users' contractor
Software needs users & developers !

Community interdependence
Lifespan of OSS
Author(s) publish code

Users use code (free riders)
Community improves code

Developers add features, fixes
Or fade away…

Ship and forget (next hype)
Lack of interest, funding
AFK or worse situations

Sustainability challenge
AFK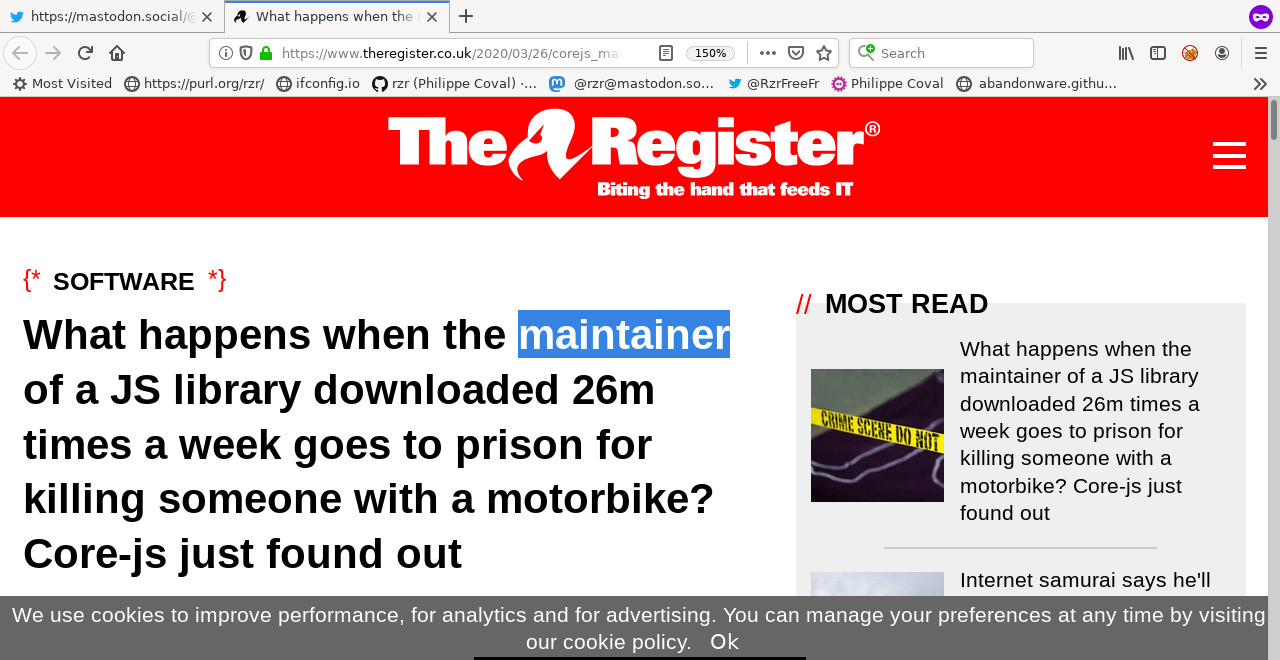 Strategies
OSS Users might stay, and make patches

not merged upstream
many downstream forks

that might be also abandoned too
(Cyber) Negligence: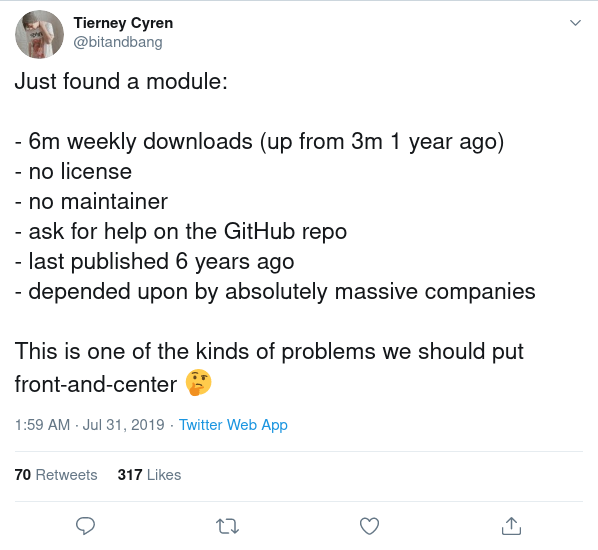 (Cyber) Insecurity:
Vulnerabilities in code
AND/OR its dependencies

AND/OR dependencies' dependencies…

Fix CVE with patches?

Any side effects ?

in un-audited (closed) code ?

Minimal maintenance is desirable
Best effort cooperation
Co-maintenance for orphaned project

by

trusty

FLOSS community

"Current" Open Infrastructure/ Development:
Trust
Should be bi-directional
Commitment to trustworthy org
Best effort again, support welcome
Example:
Procedure Flows
Track patches: URL in commit messages:

Origin:, Forwarded: Relate-to:

Forward patches to upstream first
Rebase on upstream ASAP
Setup CI/CD
CI/CD, DevOps, AI?
Automate (eg: GitHub actions)
Code is scanned by bots:

issues reported, patches proposed

Changes announced to social channels
Others: namespaces:

JS lib published to NPM:

"@abandonware" repository

Next? : AI or Collective Intelligence ?
"@abandonware/ bluetooth-hci-socket"
Help welcome
Identify orphaned projects
Join reviewers, testers, mentors
Relationship to up/down/stream
Improve CI/CD (more OS, toolchains etc)
Feedback, Support, Funding
Adopt orphaned packages
Ethics matters
Today, We're in a Pre-Cooperation age
Every one has responsability for sustainability
Inspirations:
Thanks Breizhcamp !
License: CC-BY-SA-4.0 ~RzR 2020
Copyrights belong to their respective owners
Created by Philippe Coval